Course Methodology
You will be provided with the latest best-practice organisational design tools and techniques and you will have the opportunity to discuss and test various ideas and approaches to establish what you find most helpful and useful. Graham will share his knowledge and vast experience as an organisational design consultant and practitioner and how he has overcome the very many challenges that typically arise in re-design projects. There will also be time set aside on three days for open Question & Answer sessions.
Benefits of Attending
Increase your organisation's business performance and senior team's effectiveness by aligning your organisation's structure, roles and responsibilities, key performance indicators and governance arrangements to your new, post-COVID strategic objectives
Enhance your reputation and influence by understanding the key steps, tools and techniques to effectively facilitate the co-design of your organisation with your senior colleagues – and improve their understanding, ownership, confidence and motivation for your new, post-COVID design
Case Studies
This course will include case study examples from a number of the many organisations that Graham has worked with and focus specifically on a case study from a large global client that had the most complex design challenge. Examples include:
Assessing and understanding the current 'As-Is' structure
Exploring and agreeing the strategic objectives and priorities
Developing Design Principles
Developing Design Options
Evaluating the Design Options and selecting the optimal design
Building the new design
Graham Dalton - The Global Organisational Design Expert
Graham Dalton is widely recognised as one of the most experienced global organisational design practitioners. Graham has over 20 years' experience (over 18,000 hours of client-facing organisational design project delivery), delivering over 100 projects with more than 50 different clients. Graham has worked across the private, public and voluntary sectors in a full range of different industries, guiding and facilitating Chief Executives and their top teams in their strategic organisational design assignments.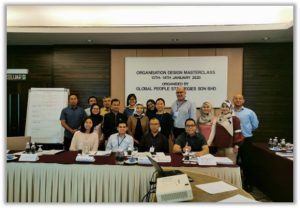 Graham is able to make the understanding of the theory through case studies very well.
Head HR, Agrobank
Very well experience in OD.
Product Owner, Petronas
Informative and most importantly, practical approach! Highly interactive session with a lot of check and balance in terms or concept understanding in between.
Senior Exec (HR), Sarawak Energy
Very useful on my application of theories into practice.
Head, People Plan & Management, KLCC Property
Some of the Companies in which Graham Dalton has trained