Course Methodology
Driven by the need to provide broader assurance Internal Audit functions find they need to perform a much more comprehensive spectrum of audits than ever before. An advanced and innovative auditing strategy coupled with effective implementation can greatly enhance the departmental value added and business-wide support of your function. You therefore need your internal audit function to embrace a more remote auditing approach and become a trusted advisor and internal consultant.
Benefits of Attending
Develop an audit approach to help the organisation better deal with the new world order
Complete complex audits such as the marketing function, environmental management and customer relations
Audit joint ventures, partnerships and other external relationships with confidence
Case Studies
The course represents a superb opportunity to develop new approaches to the difficult challenges facing modern audit functions. The workshop also provides the platform to focus the key role of IA to this fast changing world.
The New Internal Audit Challenges
The Need for More Remote Auditing
Auditing More Complex Business Topics
Phil Griffiths - Internal Audit Expert, FCA & AIIA, Founder and Managing Director of Business Risk Management Ltd
Phil Griffiths is Founder and Managing Director of Business Risk Management Ltd. Phil is also A Chartered Accountant, has over 35 years experience in risk management, internal audit and fraud prevention as a practitioner, professional adviser, facilitator and trainer. Phil is regarded as one of the world's leading experts in Strategic Risk Management and Internal Audit. He has led risk management programs for more than 75 private and public sector clients tailored specifically to include facilitated workshops, development of risk strategies and assistance with implementation. Phil has published research into many aspects of internal audit and risk management best practice, including "Strategic Risk management" "The Need to Co-ordinate Assurance Providers" and "The Expectations of Chief Executives towards Internal Audit and its future". He is an accomplished author & his latest book 'Risk-Based Auditing' is an international bestseller.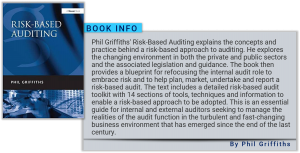 Your course was of a great benefit to me since I am working very hard with my team in order to introduce a new approach.
HSBC
GREAT exposure on Best Practise of audit reporting. Opens opportunity to improve current report format.
Telekom Malaysia Berhad
Phil has given a simple & easy way to implement RBA for the organisation. This workshop is very helpful & looking forward to other workshops conducted by him.
MEPS
"I find the workshop to be very beneficial to me. I will most definitely impart my knowledge to my colleagues. We can now hopefully cut down our time drafting reports."
Prasarana Berhad
Some of the Companies in which Phil Griffiths has trained