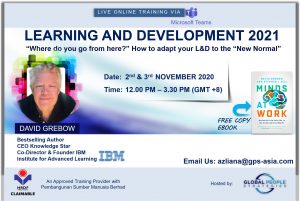 David Grebow - Bestselling Author, CEO Knowledge Star, Co-Director and Founder IBM Institute for Advanced Learning (IBM)
Recognised expert in the Future of L&D, an accomplished speaker and an author. Mr Grebow is the former CEO of KnowledgeStar, a consulting firm to provide insight about the intersection of digital technology and education. Its clients include Fortune 500 corporations, startups, NGOs, and leading analyst firms Bersin & Associates. For 28 years prior to starting KnowledgeStar, David held senior development and management positions with leading technology and education companies, including IBM, where he co-founded the Institute for Advanced Learning; PeopleSoft; Cisco; and McGraw-Hill.
An author of "MINDS AT WORK". In this book, David examines the dramatic changes L&D has experienced and offers a clear and detailed vision about the increasing importance of the future of L&D.