On these courses, you will:
Define your organizations culture on a continuum from managing hands to managing minds
Estimate your organizations preparedness for adopting and adapting the new managing minds approach and educational technology
Understand the worldwide trends in learning and development that require a new focus to improve the impact L&D must have on your future
Describe traditional push learning verses the new pull learning paradigm on educational and development theories
Develop programs to satisfy the digital learning needs and demands of generations X, Y, and Z
Develop your learner-centered and Organizational Development (OD) strategies for current and future generations in actual and virtual environments
Manage the assessment, introduction and continued use of the new digital technologies supporting a mind-intensive managing minds organization
Design a plan to incorporate the new managing minds way of learning and growing into your business
A deeper skills-set to ensure the organization is ready for the future today
Produce more self-motivated and developed individual learners
Gain a new level of excitement about the future of learning and managing minds
"A timely and practical workshop with keen insights and specific examples of how to manage success during the seismic shift occurring in the workplace today. Minds at Work is a must-read for anyone with the courage and vision to harness the trends of digital transformation, automation and globalization in this new knowledge economy. Minds at Work is a definitive blueprint for anyone striving to unlock the competitive advantage of their employees in the new knowledge economy."
"Read it now because the future is NOT waiting."
Wayne McCulloch, Chief Customer Officer, Kony, Inc.
"What is the impact of learning in our age of autonomous productivity? The Minds at Work workshop provides a compelling look at what managers must do to engage the creativity of their employees in way that deliver sustainable results. Author David Grebow offers research-backed solutions that anyone who manages — as well as those who want to manage — will want to implement. Read it now because the future is not waiting."
John Baldoni, Inc. Top 50 Leadership expert, executive coach and author of more than a dozen books including MOXIE: The Secret to Bold and Gutsy Leadership
"Learning is the new competitive advantage: The companies that succeed will be the companies that learn and adapt faster than their competitors. Minds at Work workshop will show you how to transform your organization into a learning powerhouse, and create a culture that attracts the best talent."
Sean P. Murray, President, RealTime Performance
"Grebow makes a persuasive and passionate argument for the need to keep organizational learning concepts and methods adapted to a rapidly changing work environment and workforce. Learning and development executives and others involved in human capital and talent management are well advised to pay attention to this compelling book and workshop."
Robert O. Brinkerhoff, Professor Emeritus, Western Michigan University, Brinkerhoff Evaluation Institute
"Minds at Work provides a viable path forward for those organizations that seek higher levels of employee engagement, cross-functional collaboration and teamwork, talent development, and long-term sustainable financial growth. This workshop helps leaders develop the awareness and skills necessary to build an environment where change need not be feared but embraced"
Ralph Jacobson, Principal, The Leader's Toolbox Inc., Author Getting Unstuck: Using Leadership Paradox to Execute With Confidence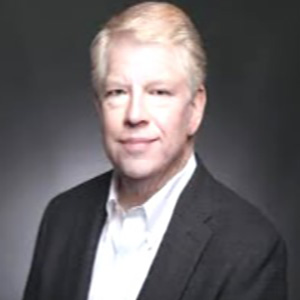 David Grebow
Bestselling Author, Exciting Speaker, Principal Learning Analyst, CEO

Co-Director and Founder
IBM Institute for Advanced Learning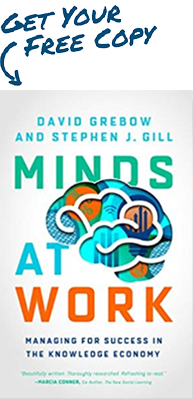 Changing the way people think about management and learning as we
enter the Knowledge Revolution.
"Read it now because the future is NOT waiting."
~ John Baldoni ~