Course Methodology
Modern Internal Audit is light years away from the basic compliance and checking function it once was. Internal Audit should be vibrant and challenging, and add measurable value to the business The function is increasingly regarded as a business partner, a catalyst for change and a Governance and risk advisor. You therefore need your internal audit function to adopt world class techniques.
Benefits of Attending
Explore the new and ever changing audit challenges facing Internal Audit today and manage the latest trends in Internal Audit brought on by the pandemic.
Provide you valuable insights on what the risk and controls landscape will look like in 2021 and what are the top-rated risks for next year.
Acquire practical advises on auditing the recovery process for extreme risk events, for e.g. Covid-19, extreme pollution and loss of significant critical information.
Case Studies
Phil Griffiths will walk you through auditing cybersecurity risks, which is one of the top-rated risks in 2021. You will get to explore the cyber incident prevention techniques, social media risks and the ISO 27000. This 3 half-day course will include the following case studies:
Respond to the Significant Changes in the Internal Audit Role
The need to exceed stakeholder expectations
Ensure IA is seen as an Agent for Positive Change
Developing the consultancy role
Phil Griffiths - Internal Audit Expert, FCA & AIIA, Founder and Managing Director of Business Risk Management Ltd
Phil Griffiths is Founder and Managing Director of Business Risk Management Ltd. Phil is also A Chartered Accountant, has over 35 years experience in risk management, internal audit and fraud prevention as a practitioner, professional adviser, facilitator and trainer. Phil is regarded as one of the world's leading experts in Strategic Risk Management and Internal Audit. He has led risk management programs for more than 75 private and public sector clients tailored specifically to include facilitated workshops, development of risk strategies and assistance with implementation. Phil has published research into many aspects of internal audit and risk management best practice, including "Strategic Risk management" "The Need to Co-ordinate Assurance Providers" and "The Expectations of Chief Executives towards Internal Audit and its future". He is an accomplished author & his latest book 'Risk-Based Auditing' is an international bestseller.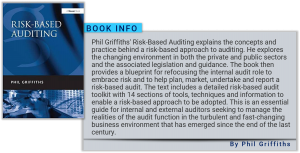 Your course was of a great benefit to me since I am working very hard with my team in order to introduce a new approach.
HSBC
GREAT exposure on Best Practise of audit reporting. Opens opportunity to improve current report format.
Telekom Malaysia Berhad
Phil has given a simple & easy way to implement RBA for the organisation. This workshop is very helpful & looking forward to other workshops conducted by him.
MEPS
"I find the workshop to be very beneficial to me. I will most definitely impart my knowledge to my colleagues. We can now hopefully cut down our time drafting reports."
Prasarana Berhad
Some of the Companies in which Phil Griffiths has trained